I don't think that anyone will be shocked to read that the large majority of my trip will be related to history. Fashion history, royal history, architectural history, all kinds of history, and that is the way I like it! It may bore some people, but to spend an afternoon walking through a museum or taking in a cathedral can't be beat for me. I thankfully have seen a fair amount of London history already, but of course there is always more to be found! These are my London history plans as of right now, as the trip is really shaping up…
Not all of my trip will be in London, but I'm hoping to spend 6 days out of my trip in London itself. I know that some people get fed up with how busy London is, but I could spend the rest of my days happily getting lost in London's history. I still need to finagle what I'm doing on which day, but I've got definite plans!
Victoria and Albert Museum
As I already chatted about, I am thrilled to be spending the day with Hisdoryan wandering around Dior's gorgeous creations at the Victoria and Albert Museum! I've not been to the V&A before, so I'm quite excited to see everything. I mean, of course Dior will be the main focus of that visit but I'm thrilled to see the Embroidery, Fashion, and Theatre sections as well if we have time. Victoria and Albert are not my favourite royals by a long shot, but I am grateful for this museum that they've established. And although the Dior exhibition is on the more expensive end of the spectrum (£20 for a ticket), the rest of the V&A is free! (Even though I lived in Dublin, as a North American, free museums are still a novelty…)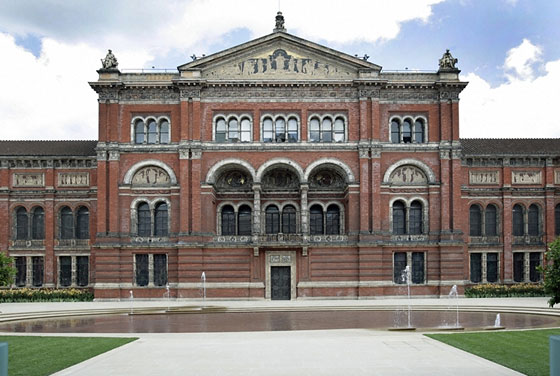 Kensington Palace
I go to Kensington Palace every time I go to London. Yes, that is £20 every time I go, but it is totally worth- the Historic Royal Palaces do a fantastic job with exhibitions. They are creative and intelligent and interactive and engaging, and I am totally happy to see them same exhibitions plus a new one when I go. The eighteen chairs for Queen Anne's eighteen lost children is still one of the most striking representations of history that I've ever seen! I am hoping to see the Diana, Princess of Wales, fashion exhibition before it ends on 17 Feb, wish me luck. (And of course, back to the Queen's and King's Apartments to take more photos! Finally, to start using my new camera…) And wandering around Kensington Gardens doesn't hurt, as well. The sunken gardens are always gorgeous, and it is a huge open park where you can see more dogs than you know what to do with. (And of course be on the lookout for a Cambridge sighting!)
Banqueting House
Banqueting House is a rather unassuming Historic Royal Palaces property- you can walk by it and not know that it is a former royal venue. It looks like many of the other buildings surrounding it in Whitehall. However, it is one of the only surviving banqueting houses of the period, and the only surviving portion of the Palace of Whitehall. (Out of all of the lost palaces, Whitehall is certainly the saddest palace to me- all of the history that would have happened there!!) This will be a faster stop, but I very much plan on spending an hour or two taking in the House and imagining all of the events that would have happened there (including, sadly, the execution of Charles I…)! This is a great stop for anyone on a budget- if you want to see one of the Historic Royal Palace properties but don't want to pay an excessive amount, Banqueting House is only £6.
Walking Tour
I follow a whole host of London accounts on Instagram, but Look Up London has to be my favourite! Katie runs walking tours of London on the weekends, and then also offers bespoke tours during the week. Although it is on the pricier end for a walking tour at £15, I am totally going to splurge and do one! She specialises in showing you the historical side of London, especially that which is above your eyes. I'm just waiting to see which tours she will be offering while I'm there so I can decide which to do! (I also plan on doing a walking tour of Bath, but I'm still debating on which.). I'm hoping it happens to be the Covent Garden tour….
Sidenote: if you know of any good historical walking tours in London, Cambridge, or Bath (preferably free), please send their links my way! I've some ideas of tours to do there, but I'm not set on anything yet!
Queen's Gallery, Buckingham Palace
Hisdoryan and I will also be heading to the Queen's Gallery at Buckingham Palace to take in a fascinating exhibition on the Romanovs, including several notable tiaras and pieces of jewellery! I've accepted that I will most likely never be able to tour Buck House itself. I can't see myself visiting during the 6 weeks that it is open for tours, given that they also happened to be the busiest times for tourists in the year. However, I can wander the Galleries and take in some gorgeous tiaras while I'm at it. I wasn't able to visit the Queen's Galleries at Holyrood when I was there, so I knew that I had to take the opportunity now! Also, given that I probably won't ever make it all the way to the Hermitage museum myself, I will soak up all of the Romanov history possible here while I can.
Overall, I'm pretty happy to see everything coming together. I don't travel very often, so I'm thrilled that everything is working out and fitting like a perfect puzzle! I will also be sharing my Bath and Cambridge plans in the next month or so, but those are still very much up in the air. (Much research to do now!!)
What is your favourite piece of London history? And if you have any hidden history recommendations for London, please let me know!
Cheers,
The Historian
Facebook | Twitter | Instagram | Pinterest | Bloglovin'