We all have different things we like to see when we travel. Some of us like to hike mountains, some of us like to shop in the luxury district, some of us like to spend our days wandering through bookshops. However, I think that we all need to push ourselves out of our comfort zone at points in our lives, and travel is the perfect way to do that! I am mostly a city girl, preferring to spend time in museums and palaces, with a remote castle here and there. Getting out of the city is a wonderful way to immerse yourself in the quiet, and truly appreciate the landscape that was here long before us and hopefully after us, and can put things in perspective. And the Aran Islands are PERFECT for that.
The Aran Islands feel like the most remote place on earth. Quiet and isolated, it feels like the ocean is all around you and that it goes on infinitely. Made up of three islands, only 1300 or so people live there, adding to solitary feeling. We spent our day on Inishmore, the largest of the three islands- still incredibly small but certainly busy and big enough to fill a day of tours and wandering. It isn't as metropolitan and modern as Dublin, but I think that everyone should make the journey out to the west coast, and the Aran Islands are about as western as it gets!




Because it is in fact an island, you must take a boat to get there. There are two different ferry companies that operate, with the ferry ride roughly an hour and a quarter to cross one way. I'm  not going to lie, I was convinced that I was going to die. Being from the prairies (and in possession of a healthy fear of things that live in water) I usually avoid water travel. However, I did make it through an incredibly rough crossing both ways and I MADE IT. (The captain actually said they were close to cancelling the service that day, so I'm not just being dramatic….)



Once you get to the island, you can either hire a bike or a van tour. We went with a van tour because it was an incredibly rainy day and we wanted to have someone familiar with the island to share more with us. As of 2011, there was only 845 people living on Inishmore across five towns (and some rurally). Coming from what I thought was a small city of 700,000, it was still a little crazy to see horses and sheep in people's yards on the edge of a town.

Way back when, the islands were home to numerous abbeys, monasteries, and churches. Because monastic life was largely meant to be lived in as solitary a manner as possible, living out on what seems to be the edge of the entire world is probably the best way to commit to this. Most signs of the religious communities are gone now, but you can see the remnants of the Seven Churches of Aran- a complex of buildings dedicated to Saint Brecan. After reading about Saint Brecan and the communities of his followers, it is something else to see it in person. It also very much drove home that the building materials that we use now aren't worth much of anything- an abandoned house nowadays might last a couple of decades. These buildings date back to the 8th to 13th century, and while they are slowly crumbling, are still there for us to see!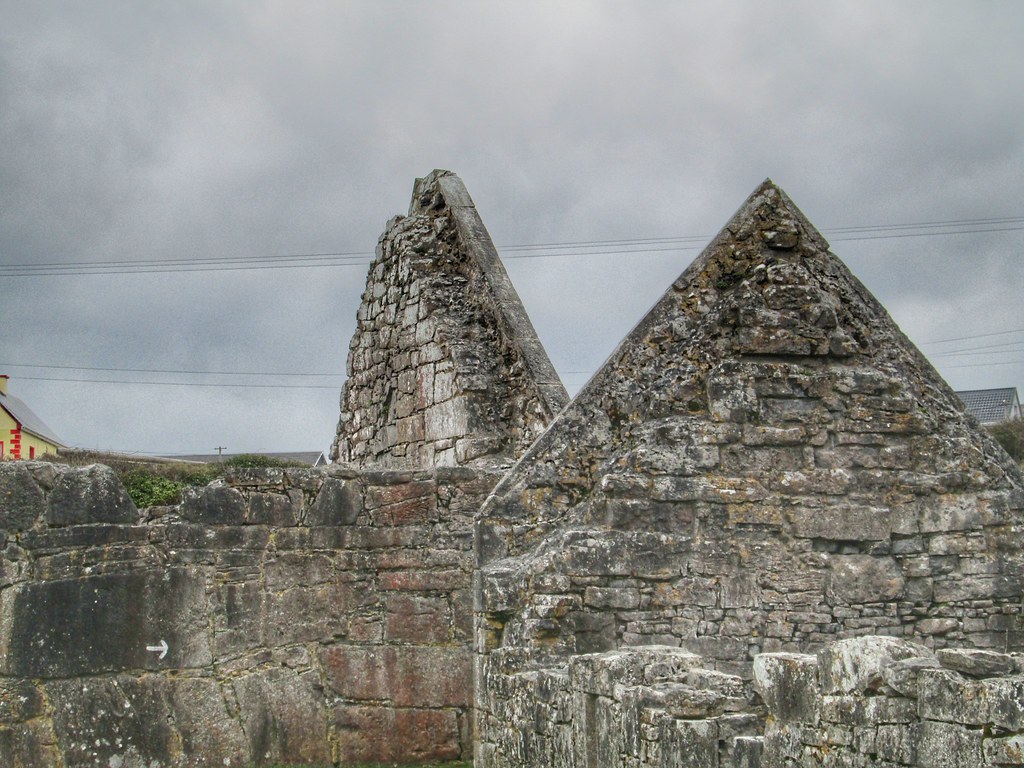 It was just a fast stop, and certainly not anything large to the driver, but stopping at one of the boat launches on the west side of the island was one of my favourite things to see. While so many boats are made of synthetic materials and high speed motors, it is incredibly striking to see a simple wooden boat with wood and wire traps. It was very interesting to have a sneak peak into the life of someone living their life and making their livelihood on the island!


The last big site I saw on Inishmore was Dun Aonghasa, one of the most well-known hill forts on the Aran Islands. These forts were crucial in early Irish civilisation- kings/chieftans would live in these forts with their extended families. Sadly, parts of the fort have fallen into the sea, but much of the defensive walls still remain, as well as some of the inner walls. This is prior to my own historical period (roughly 500-800 AD), thought to date back to the Bronze/Iron Age (roughly 3200-600 BC). A note for anyone visiting Dun Aonghasa- it is quite a walk up to the fort; from my recollection closer to 10 minutes. Still, it is worth the bit of the hike up, and the views that you have of the ocean are fairly spectacular!



While this is certainly one of the most remote and desolate places that I have ever visited, it is also one of the most beautiful. Although I am definitely a city person myself, I do love spending time in solitary places that allow for a little more thinking. If you want to spend a little time contemplating our history and your place in the world as a whole, this would be the place to do it!
What is the quietest place you have been to?

Until tomorrow,
The Historian!
Facebook | Twitter | Instagram | Pinterest | Bloglovin'